Land's End to John O'Groats
Day 1
Getting to Lands End was an effort in itself and getting my first puncture just before I was hoping to set off did nothing at all to cheer me. Taking all the kit off the back of the bike, turning it upside down and doing a repair in front of so many on lookers was quite an embarrassing experience! Cycling through the vast car park everyone looks at you and possibly even feels sorry for you. No real need as I am sure the days ahead will be quite magical. I have no real time constraints and can do as I wish. I have no one to keep up with, no record in sight. I just want to do it.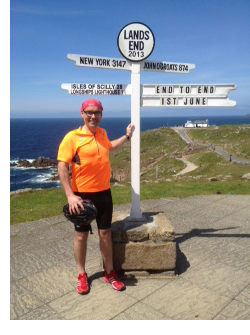 As soon as you are on the road it's an uphill start. The road surface is good but it is quite narrow. You certainly feel it when the buses whizz by but other than that there is nothing big on the road. Not at the beginning anyway! I stayed on the A30 all of today and my straight forward route took me though Penzance which really is not a pretty town. Looking out to St Michael's Mount was nice though. Onwards up and down the undulating road to Bodmin and on to Tregadillett where I stopped for the night.
I am not going to take the most traditional route. I do hope to see new areas of the UK as I cycle my way up the country. I also want to avoid as many big suspension bridges as possible as I have a significant phobia of them. At least I do when I am driving a car so I shall avoid as many as I can!
The weather was scorching all day and I am glad that I remembered my SPF cream and sunglasses. Being a baldy I even wear a bandana under my cycle helmet. That is a trick I learned when I cycled across Australia. Out there I got really bad sunburn through the holes in my helmet and because I am a baldy I had a pattern of small round burn marks across my head that made me look like a Dalmatian dog. I made the right decision to wear cycle shorts today although I do also have leggings with me just in case it gets cold or even in case I get sunburned legs.
The road surface was good all the way today. For a lot of it there was sort of cycle lane. It probably wasn't meant as such but it was at least a roadside white line that I did my best to stay within in the hope that cars and other vehicles would miss me! At times it petered out and that bothered me. It felt like a comfort or safety net had ruthlessly been taken away from me and I felt more exposed to danger. It's funny what goes through your head when you have so much thinking time. The hills did not seem too bad all in all. They were long, slow hills which I think I actually like less than short and steep ones. By the end of this I shall probably loathe them all.
I saw Lands End, a great castle, huge wind turbines, lots of animals and too many caravans today. Loads of them. My fluid intake had been huge but I think that was a combination of hills and temperatures. I am mixing my intake between Ribena, Lucozade Sport and water. Plenty of petrol stations on this road so I stopped quite often to get cold drinks. On top of that I always have about 2 litres on the bike. Snacks from the supermarkets and a pub meal in the evening. I had reached Tregadillett by the mid evening and was really chuffed with my first day. Everything seemed right about the bike, my kit and the weight of the bike. I hope it stays this way!
Day 2
Tregadillett is neither a big nor a notable place. After a hearty breakfast I was back in the saddle and starting out on my second leg. On the subject of legs they felt surprisingly good but my arse was very sore and I was not enjoying sitting on the saddle at all!
The day had started off fairly cool but soon warmed up again and was much like yesterday. Clear blue skies with barely a wisp of cloud. I know I shouldn't moan but I would in fact have liked it just a touch cooler. Plenty SPF was slapped on all bare skin. The one place I never protected in Australia was the back of my hands and I paid the price for that one. I was in 46C and my hands blistered terribly and were extremely painful. I also suffered from neurapraxia which is nerve compression. So this time around I am wearing padded cycle gloves to prevent recurrence of either issue!
Once again the road surface was good. The roads up in Scotland have suffered terribly the last few years with harsh winters which cracks up the road surface. I guess that down here they must have milder winters or councils with more money to spend. It was great not to be swerving around giant potholes.
I stopped at a pub again for lunch. I can see that this is going to be expensive doing this every day. I don't want to eat junk food every day though and I certainly do not have the time to be going to a supermarket and making stuff for myself. I hadn't really thought too much about this. I have modest camping kit including my good tent and a lightweight sleeping bag as I intend to camp most of the time which also gives me more freedom to stop where and when I want.
My estimated mileage today was 102, making 176 in total so far so I am mighty happy with what I have achieved. I had not really appreciated just how sore my botty was until I dismounted at the end of my day. It really, really hurt.
I had got to Glastonbury, the town of festival fame. It seemed nicely peaceful today. Although I had been mainly on the A30 I also went along the A3072, A38, A361, and A39 plus some other minor roads which led me from my start to where I am now via Okehampton, Tiverton and Taunton. I would love to get stuck into some cider but better get my head down. Night night.
Day 3
I am going to start sounding like a broken record soon. Nice weather. All day!! Shorts were on again. I might even be getting a bit of a tan. It's never a great look though when the shorts come off and the rest of you is as white as a sheet!!
From Glastonbury I cycled to Frome and then Bath. I was able to cycle on by, simply because I have been to both before otherwise the temptation to stop would have been too great.
Stroud was a funny town and I have always wanted to see it since I read a book called 'As I walked out one midsummer morning' by Laurie Lee. That was the first ever travel biography that I read and the story starts off in Stroud. It has been quite a significant book in my life and is quite possibly responsible, in part at least, for my wanderlust.
Coming in to Cheltenham I felt bad for not stopping to see my brother's family. I hadn't warned them that I would be coming anyway just in case I was behind schedule and trying to make up time. As it happened I was making great time once again but I was suffering serious cramping in my left calf muscle and had to get off the bike twice to stop and stretch it out. I had to go for some very intensive physio back in March as I had a partial tear in my gastrognemius which took some sorting.
Tewkesbury is a town that I wish I had more time to spend in. I have never really been there and it struck me as very pretty indeed. It just means I shall have to find the time to head back there for a weekend when I have more free time. The road took me on through Worcester and on just a wee bit further to Grimley. The name makes it sound terrible but the thatched buildings were really very pretty. My meanderings today had taken me along the A361, A36, A46, A435, and A38.
My botty felt a bit better than yesterday but not great. A hot shower tonight was superb and much needed. When I calculated my distance (108) I think I even bettered yesterday so I deserved the shower and a few beers, and some ciders. I shouldn't have spent so long in the pub perhaps. I was hammered when I left.
Total miles now 284.
Day 4
I rose early to go to the bathroom. I had a splitting sore head and wanted more sleep but forced myself to stay up. I knew that if I went back to bed there would be a danger that I would not get up for many hours. To cover the sorts of daily distances that I am aiming for I really need to be cycling for 10+ hours and cycle between 10 and 12 miles per hour which is nothing staggering. I usually give myself four 30 minute stops to get off the bike, have a snack, pee, take photos and just change my posture for a while. So, this means cycling 8a.m. to 8p.m. most days.
Already I am becoming acutely aware of just how many noteworthy places I am whizzing by. But if I stop to see them then this cycle will take me forever. Maybe one day I shall do it again and give myself a couple of months. That would be great fun.
The map looked horrid when I was planning out my day with big cities and the likelihood of heavy traffic. It proved to be a very real guess. I did not enjoy cycling most of today.
Funnily enough I am finding that in and around big towns and cities the road surface is usually in poorer condition. Lots more potholes to avoid.
To compensate though the weather was really nice today. Cool and dry with a very slight tail wind which helped me on my way. It made a big difference to my day. My legs are far more used to it now too and the general cycling seems quite effortless. There have been some horrid hills today but for every up there is also a down so I don't really mind them now.
My hands are starting to hurt more despite everything I am doing to avoid it. If I get acute neurapraxia again it really hurts and can last many weeks after the end of the bike ride.
My ride today took me from Grimley to Rochdale which is about 120 miles and means my total miles are now 404. I stayed mainly on the A449, A34 and A627. Kidderminster was quite pretty but I cannot say the same for Wolverhampton, Stafford or Stoke-on-Trent. Stockport and Rochdale were a bit nicer but I really can't see myself rushing back.
I wish I had not drunk so much last night but my head is far clearer now after so long in the saddle.
Day 5
Today was a very different day indeed. I left Rochdale and cycled up to Kendal which is only 71 miles. The A671, A682 and A65 took me through Burnley, Kirkby Lonsdale and eventually to Kendal which is rather a nice place. All in all it was a far prettier and more enjoyable cycle than yesterday.
I cycled far fewer miles today as I am hurting in so many places. My hands, bum and neck. I think it's all from sitting in a pretty static position for so long on the bike coupled with camping most nights. What I wouldn't give for a massage!
I had a salad for lunch today and it was utterly delicious. I have not had a lot of fresh food since being on the road. I have been drinking electrolyte fluids and eating countless energy bars and gel sachets. The salad was just what I needed.
There was nothing spectacular about the weather today but the fact it was 'normal' suited me down to the ground. The bike has had a bit of an issue with its gears today and changing through the front three cogs seems to be sticky at times. I may need to take it to a bike shop as I have no idea what to do to resolve it.
I am in a nice wee B&B again which is a great change from camping and means I get a shower. This has become something to really look forward to.
I have to confess I did go out to the pub but I only had two pints. I'm not going to repeat the mistake I made the other day!
So, it's not been much of a day in terms of distance covered but I am glad to have had a short day and also the chance to look round a town properly before everything closes up for the day. Kendal is definitely a place that I would like to come back to.
Day 6
When I got on my bike this morning I had no idea that it would be my longest day yet - in terms of miles at least. Everything just seemed to be in my favour and I felt awesome from the off. Leaving Kendal I set out along the A6 and the route in my head seemed pretty simple which also meant I did not have to stop too often to consult my map. That can take up far more time than you might appreciate and really breaks up your rhythm.
Cycling up to Penrith and then Carlisle was a joy. The gentle rolling hills looks great and I really would have liked to go off walking in them or spend some time around the lake district but that like so many other temptations on this journey will have to wait for another time.
Traffic seemed quite light on theses roads and I couldn't fathom why but I liked the fact. I passed the first sign for Gretna Green late in the afternoon and of course I would have loved to visit the old smithy where people used to elope to get married so that too will have to go on the list for another time. I just kept on pedalling away in an effort to get as far up the road as possible. Strangely enough having crossed the border seemed to spur me on. The sign at the border was written in Gaelic which amazed me bearing in mind how few of us Scots people can actually speak the language.

By the time it was getting dark I was not far from Greenlea (near Dumfries) and it seemed as good a place as any to stop for the night. I was really hungry in any case and needed to get to a pub before they stopped serving food. So many seem to stop at 9pm and it wasn't really a consideration when I started but now I know not to take any chances. The smaller the town the harder it can be to find a decent meal especially later in the evening.
Best day so far really pleased with distance - about 122 miles. That means my total is 597 I think. Really bloody chuffed. I am averaging just under 100 miles per day which is fabulous.
The weather has been good today, very little wind, road surface was generally good and in places there was a sort of hard shoulder / cycle lane. Truth be told it was more of a white line at the side of the road (like the beginning in Cornwall) but it gave me some comfort!
My face seems to have caught the sun but it could also just be wind burn. I am quite brown and seem to have the beginnings of good panda eyes. I am looking forward to the remainder of the A75 tomorrow - quite a nice road.
Day 7
I got up a bit earlier than normal and it seemed unusually cold so I put on my leggings rather than my cycle shorts and I also brewed up a second cup of tea to warm myself.
I was probably only 5 miles out of Greenlea when I saw the error of my ways. I was roasting! I didn't want to stop at the side of the road and undress for the whole world to see so I kept the bloody leggings on all day but resented my stupidity so often in my head.
I didn't accomplish as much as I had done yesterday, just 102 miles but that is still maintaining my daily average which is fine by me. The road numbers seemed funny today, almost sequential: A76, A77 and then the A80. The towns and surrounding areas were none too pretty though. After a long slog almost directly due north I skirted Kilmarnock then East Kilbride, Cumbernauld and eventually made it to Haggs.
Having often heard of Haggs Castle I tried to find it and was eventually told it was in Glasgow! I found a decent pub and had a few pints to round off my day. I felt I deserved them.
Day 8
Not long out of Haggs I crossed the Forth by the Kincardine Bridge. This was a ploy of mine to avoid the Forth Road Bridge which scares the crap out of me but to be honest this seems pretty much the best route in any case.
Kincardine has some surprisingly nice old houses but also some real eye sores. Bit of a shame.
The scenery really starts to change when you leave the Forth behind you. The air seems cleaner too. I passed a huge police training college and some farms but then the road is all that you have left. Its dangerous in places for a cyclist here and the traffic seems fast but that may just be because the road is twisty at times.
I have worked out (perhaps wrongly) that the more digits there are in an A road number, the smaller or more minor the road is. Plus these minor roads were probably old roads and tracks and not constructed in straight lines. Today seemed to prove that point with the A977, A823 and A822. They were nice roads but not the easiest for a cyclist.
Crieff is a town I had often heard of. My Mum used to come here on holidays but I had never been which is a surprise as it's not really that far from my home town of Edinburgh. Crieff is absolutely lovely and so is Dunkeld.
I joined the A9 for the last leg of my ride today up to Killiecrankie. I am not liking the A9 at all because there is some really fast traffic on here and it is terrifying. When trucks whizz by they almost knock you over. It's not the actual truck but the buffer of wind that they create and it really hits you hard so you have to brace yourself when they go by. This slowed me down quite a lot and I had only managed 90 miles by the time I stopped. I was annoyed that my daily average had dropped so I shall have to push it tomorrow if I can. I reckon I have now done a total of 789 miles
Day 9
After yesterday's poor performance I got myself up very early, all packed up and on the road by 6a.m. The world seemed eerily quiet at this time of day. There was a damp mist hanging over the fields as I left Killiecrankie behind.
The A9 was a good bit quieter, at least for the first two or so hours. Early in the day I made good distance and covered almost 27 miles in two hours. Then I got what I assumed to be a puncture but it turned out to be a bit worse than that. I had a hole through the tyre as well so it meant taking off my tent, sleeping bag, paniers - the lot. It was the back wheel, just like last time and that is more tricky than the front as you have to negotiate the chain and so on.
My hands were covered in oil by the time I had finished and the best I could manage was to wipe them in damp grass. I was pretty pissed off because this had cost me almost an hour of time. It made me more determined though to make up that lost time. I knew I would either have to pedal harder all day long or possibly even cycle in the dark. I have lights and high vis clothes but still don't like night time cycling and I have to keep reminding myself I am not competing - this is supposed to be fun!
Getting up to Inverness was an utter killer. The gradient on the road never seemed that steep but the hills just went on and on. It really seemed as though I was cycling uphill for hours. There seemed so few down hill stretches. My thighs were burning.
The one way system in Inverness is not nice and the drivers here are very unforegiving. I was glad to get out of the town and keep going.
There is a huge great big bridge up here too and I wanted to avoid that at all cost so I followed signs for Muir of Ord which was a very pretty road. I saw some highland cows. I shouldn't really have been surprised as this is where they are bred!
Mainly I stayed on the A9 all day and it was good in places. I did wander onto the A862 for a wee while though. I continued on up through Dingwall and on to Tain. What a day it has been. I have done 128 miles today which makes up for my poor day yesterday. I have done 917 miles in total which has made me happy once again. Another great day where I have exceeded my previous best. I have to say though that I am absolutely shattered. I am though excited that I might finish tomorrow if I get another day as good as today has been but I will need to really push it.
Day 10
I didn't get my head down last night until after 10p.m. I had got into town so late that I didn't get a proper meal anywhere but I am well enough prepared for these eventualities. I boiled up some water on my Trangia and had two Pot Noodles.
I had set my alarm for 5a.m. Some people had said to me when I set off that doing this ride in anything under 14 days is respectable. The best cyclists do it in 7 or 8. I thought to myself that if I could finish it today that would be 10 days and I would be very happy with that.
There were some beautiful but scary roads today. Great vistas out over the sea. The road was brutal in its gradient and I even encountered some hairpin bends. I am almost ashamed to admit it but for the first time today I got off my bike and walked for a bit. The gradient was just too much.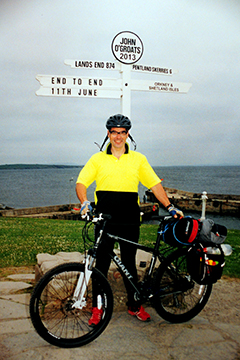 Crossing the Dornoch Firth bridge was not too bad. I had been a bit anxious about it but it was quite low and I actually enjoyed it once I was on it. The water level was very low and there were lots of interesting birds. I felt rather ignorant and I couldn't identify many of them.
I would have liked to take more photos today but all I could think about was finishing. I only wanted to get to John O'Groats.
I passed many quaint old crofts and other dilapidated stone buildings. No doubt most would have a sad story attached to them. There were slip ways to the sea where boats were launched, old fishing towns which had seen busier days and churches with collapsed roofs.
Even my meal stops were kept to a minimum in terms of time as I was so desperate to finish. I loaded up with extra energy bars and water every hour but that was about all I ate today.
I had gone through Brora and Dunbeath and was excited to see a sign for Wick as this is the last major town before the finish line. I barely noticed Wick and just kept going. Every sign that said John O'Groats just filled me with more and more excitement. The daylight has lasted just long enough. I rode into John O'Groats at 9:50 p.m. To be honest I could not have ridden much further and I was getting cold as the temperature has dropped dramatically today plus I am sweaty. The daylight was still magnificent as we are not far from the longest day of the year.
Todays ride had been 88 very tough miles making a total of 1,005. I hope that if I ever do this whole distance again I do it in a car. Just kidding! I would do it at a far more leisurely pace though as I feel I have missed out on seeing so many wonderful places.
In the half light I rode on to Dunnet and put up the tent for the last time near the lighthouse. The car park was full of camper vans, mainly from Germany and Holland. I had to come here as I believe it is in fact further north than John O'Groats. Hopefully this will be the last time I sleep in a tent for a very long time. Taking into account the North Pole trip that I did in April & May I have spent an awful lot of this year in a tent so far! Just before I got my head down for the night I was able to make out the distant Orkney Islands in the pale pink light, some miles off shore.
I cycled back to John O'Groats in the morning for the official photo. I now have the start and finish photos so I am really very happy. Another thing off my bucket list!!
Click here to view the photo gallery!