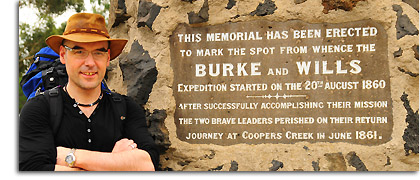 Burke & Wills 1860 Expedition
After three years of deliberations, my attempt to cross Australia retracing the Burke and Wills 1860 expedition was under way, setting out from Melbourne on 19th March 2010. My pack with filming kit had been whittled down to the bare essentials. My route had been predefined and would take me from Melbourne, Victoria to Normanton in Northern Queensland.
Pioneers are pioneers, and everyone else just follows after. You could not faithfully recreate an expedition such as this. The presence of towns and settlements along the route, combined with modern maps and navigation systems makes this a lesser challenge for me than that faced by those in 1860. However, I would be attempting this on my own without pack animals or motorised transport.
Upon reaching the Gulf of Carpentaria, the original expedition team had no choice but to turn around and head back south. However for myself, I would have accomplished what I had set out to achieve and I would finishing my journey there.
Below, are my blog entries from the journey, and you can see some photos from my trip in the
Gallery
.
Blog Update 1
The plane landed with such a thump that the pilot apologised to all the passengers over the loud speaker system. I thought they might confiscate my hunting knife in customs but they allowed it through in the end. Once outside the terminal I got a bus to Southern Cross bus and train station. It was still only 7.30 so I had some breakfast.
I got a travel card for the day and headed up to Royal Park. Normally I prefer to walk round cities but I had several jobs to do and wanted to do them all as quickly as possible. With the help of a local person I soon found the Burke & Wills monument and from there headed to Melbourne General Cemetry where their remains are buried. (According to the accounts kept at the time, neither of them were initially buried and Wills lost most of his skull to dingoes and Burke lost his hands and feet.)
Back into the centre and I visited another statue dedicated to B&W and La Trobe Street - home of the Melbourne Royal Society. Having visited these locations I was now all set to get out of town so I walked in a roughly north westerly direction and eventually got to Sunbury. Not easy avoiding the M79 and everything around the airport!
In Sunbury the Olive Tree Hotel is not actually a hotel! The motel was full and so I went off to the Royal Hotel. They also have no rooms (!!) but they did suggest I go back to a place called Sunshine where they had established there were rooms available. I really wanted to stay in Sunbury rather than back-tracking south. Sleeping in a tent here is not an option and I was told it would only attract the police.
As I was going south I took the train. This does not compromise my trip at all. I simply wanted to save time and know where i was staying for the night. Sunshine was not a great place. I needed to get the 454 bus quite a distance and then when I got to the horrid little hotel I found they had stopped serving food at 8.30p.m. Bloody marvellous. I was starving.
Blog Update 2
I got back on track and up to Sunbury. I went to the Bike Hub which was easy to find and bought a superb new bike, tools, pump, inner tubes etc. Loads of stuff! The chap did me a great deal and went the extra mile in making sure I had everything I needed for trip ahead.
I set off north. Getting out of Sunbury was hard as there were hills from the start. The weather was quite kind to me. I didn't go too far as this was my first day. I ended up in Kyneton which is quite a stunning little town. Totally time-warped in a nice kind of way. All the buildings looked as I imagine they might have looked during the boom years of the gold rush.
I met four really cool pensioners (Ken, Dave, Margo and Di) enjoying a drink of wine in the park and I stopped to ask for direction of any place I would be allowed to camp. The end result was that I found a great campsite and they invited me to dinner. I did point out that the sweaty t-shirt that I was wearing (complete with salt stains) was also my dinner shirt and jacket all rolled into one! They didn't care.
My camping spot was wonderful and I set the tent and sleeping bag up and left a torch in an obvious place for when I came back. We went to the Royal George Hotel for dinner and I have to say it was lovely. Not cheap but well worth it. They paid for me which was so very kind. Thanks guys.
I went back to my tent and had a very bad night indeed!
Blog Update 3
The animal noises were very intense last night and this morning so I got little sleep. I was wet because of dew and I was also uncomfortable as I had pretty much all my kit in the tent with me. I guess I will get into some sort of routine. Hopefully soon.

I got up slightly before it was light. I packed up even though the tent was wet and set off around 8a.m. After less than an hour the rucksack was hurting me quite badly. I could walk with it but for some reason the position on the bike made it harder to bear so I strapped it across the paniers at the back. This caused a new problem. The bike was so rear heavy that I nearly did an unintentional wheelie on several occasions.
Cycling along the edge of the Freeway is slightly unnerving with all the big trucks roaring by. The hills have been hell so my legs hurt badly. I am quite burnt but that is my own stupid fault. I was chased at one point by three rather nasty looking dogs. Thankfully I was going down hill. At least I know I can put a spurt on when needed!
I stopped at a place called the Junction for lunch. Nothing special but it filled a hole.
Blog Update 4
I have been in touch with rangers at the Sturt National Park following the recent heavy rains and flooding they have experienced in the area. It looks very likely that I will not be able to get to either the Dig Tree or Coopers Creek as they are both so heavily flooded.

Rangers can only watch on as a road on the Strezlecki Trail is washed away by floods
This is not just a case of a small area being under water, it is half the area of Europe so I cannot even get close. It breaks a 17 year drought and is the heaviest rainfall in more than a century. Currently the belief is that it will not be passable until after May. Realistically what this means is that I can no longer faithfully follow the Burke and Wills expedition route but I can still aim to be the first British person to cross Australia solo. I will not make my final decision until I am some way further north and can take the most accurate and up to date information.
Blog Update 5
Whilst this was originally intended to be a walk it has developed into 80% cycling and 20% walking. People I met early on in Victoria told me that whilst I can carry all of my kit and filming equipment in a rucksack and do the walk to the north coast it will become extremely difficult to do this on my own without a support vehicle or pack animals by the time I also have to carry enough water to get across the desert regions. They said that if I take a bike I am still doing it solo and under my own steam so that is what I opted to do.
There are times where you simply can't cycle. In the main this is when I meet red sand on the road and that is happening with ever increasing frequency. The bike plus water and kit weighs about 60kgs and I have had to carry this over short distances. It slows me to 2-3 kph and dramatically increases my water consumption. Those are not times I look forward to.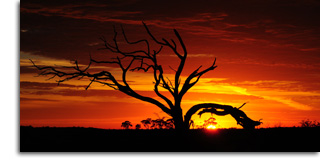 My route had had to change due to the biggest flooding around Cooper Creek in 100 years. It is a vast area and I am trying to stay as true as possible to my original intended route but I will not now see the Dig Tree which is a shame. I will cross the dingo fence at Warri Gate and go to Noccundra, Eromanga, Windorah, Jundah, Stonehenge and Longreach. At times this will be 250kms between having guaranteed water. Hard enough in a car but pretty tough by bike in 40C+.
Australia was crossed by the Burke and Wills expedition 150 years ago. Possibly the most faithful retracing of their steps was by Dave Phoenix in 2008 who walked but had a support vehicle shadow him. It was also done in 1977 by Tom Bergin and Paddy Mchugh on camels. As far as I can tell though it has never been done solo by any British person and I intend to be the first.
Blog Update 6
I am sorry that I have not been able to provide you all with an update before now. I have been through some pretty remote places with 'towns' having fixed populations of less than 10 people. So, no internet and no mobile phones. Not that it would help me as the Aussie mobile phone I had bought got trashed in a flood.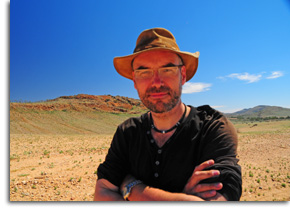 So much has happened and I have seen so many amazing places and met some awesome people that I hardly know where to begin. My hands continue to give me severe problems. I still have no feeling in two fingers on each hand. Add to that the fact that I have lost some functionality in my left hand and am getting a lot of pain. Reason is telling me that this can only be nerve related and must be caused by the constant pressure of gripping handle bars as I pedal along. Hopefully it will resolve itself once I am home.
I left Pooncarie on the last day of March. It was a nice town and so were all the people in it. It was from there that I would say things really started to change, in terms of landscape. The road was bitumen in places but also a lot of dirt track and red sand. Red sand is my worst nightmare. The bike cannot cope with it so I have to get off and push. Sometimes that also does not work and I have had to put all my kit on my back and strap the bike across my front. Uncomfortable in many ways. The padals and handlebars are difficult and have given me so many bad bruises. Including my water it must weigh 55-60kgs and slows me to a crawl. Thankfully I have only had to do this on short distances so far. It saps your strength and you will to go on. It's at times like these I wish I had another person along with me.
It was on this road that I saw my first kangaroos. I thought I would have seen them many days ago. Once I saw some, I saw loads. They were popping up every where.
My next excitement was when I startled a cow from dozing under a tree. She quickly stood up and started running along side me. There are no fences on most of these roads. She then drew the attention of four calves and another cow. It was beginning to look like a small stampede and I was becoming rather worried. I became even more worried when I suddenly saw a very large bull up ahead and realized that there were running to him for protection. I thought about stopping but then thought momentum was likely to be my best ally here if the bull started to chase me. I had outrun some dogs a few days back but this was looking like a very different situation indeed.
Thankfully the bull was not too bothered by me at all. Once the cows and calves reached him he just lowered his head and started chewing the grass again. Thank flipping goodness!!
By 2pm on this day I started to flag and my muscles were cramping. I don't carry food with me when out on the road (apart from two sets of emergency rations) as I use all my space for water. Sometimes I don't eat for several days but I make up for it when I reach any town. I have lost a lot of weight.
By nightfall I had reached Menindee and was very chuffed. 125kms in a day was my best so far. Bearing in mind the dirt road, heat and the fact I have so much weight on the bike I was delighted. A town also means a bed for the night and a meal. I never feel that staying in accomodation is 'cheating'. Burke and Wills stayed at the hotel in Menindee for quite a long time in 1860 and used it as their forward base. I'm happy to take all opportunities that present themselves.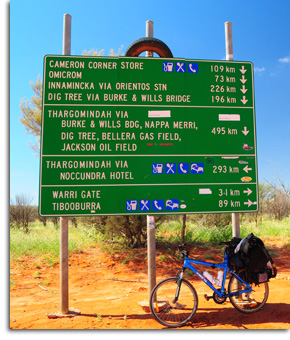 The road up to Broken Hill was pretty tough going. Another very long day in the saddle. The hills start about 25 km out of town and are steep in places. The huge lorries here (known as Road Trains) can blow you off your bikes as they pass you. They are the biggest trucks I have ever seen anywhere in the world. Broken Hill itself is quite a town and has a fabulous history. At one point it produced 1/3 of the world's silver as well as zinc and tin. It was once hugely wealthy and it is still easy to see this around town. Lots of the towns out here have a "Wild West' appearance that would seem equally in keeping in parts of the USA. I stayed at the Black Lion Inn which was pleasant enough. This place is also in a different time zone by 30 minutes from everything else around it. Slightly confusing but I got the hang of it after realising why everything was closed later than I thought it should be in the morning.
Going north I am going to have to start carrying even more water so I decided I needed to shed some weight from my bike. I took a load of stuff to the post office and sent it in a box to Cairns. I shall pick it all up there before I fly home. I just hope that I don't need any of it before I see it again. It is 176 kms before I get guaranteed water again so I am now carrying 8 litres. I hope that this will be enough. Leaving Broken Hill was great as the gradient was all down hill for a while. It was all going so well until I found myself on another dirt road. The effort in pedalling seems to double and the constant vibration through my wrists and shoulders is terribly painful.
At times I was afforded sight of the first flooded areas. I was beginning to understand what might now be obstructing my path to Innamincka and beyond. I will still not make my final decisions until I get a lot closer and speak to people with local knowledge. On this road I met my first shingle back. A yellow and black, warty looking lizard. Less than two feet long and desperately trying to look threatening but not doing a very good job of it. I spent some time filming him which he did not like very much.
The dirt roads are cutting my tyres up pretty badly. The liquid in them, which is supposed to prevent punctures by self sealing, was actually now oozing out of the tyre wall. This was bad news indeed. My tyres had lost pressure so I pumped them up again but at a certain pressure you could hear the air hissing out which told me that the punctures had burst again. Soft tyres meant even more pedal power was required. With 95kgs of me, 20 kgs of bike, 8 kgs of water and 30 kgs of kit it means that the bike has a lot to contend with. I did not get as far as I would have liked. I camped by the side of the road at a place called Telephone Creek.
I had concentrated on the bike so much that I had neglected my hands and legs. They were badly burned. I had managed 115 kms today but I felt very low when I got into my tent and zipped it up against the bugs and snakes. I sat ther sweating for 2 hours before laying down to try and sleep. I was wiping the sweat off with my rancid t-shirt which was now starting to look rather raggy. A horrid night with lots of strange noises outside and stuff scratching on the tent trying to get in. I slept one eye open with a torch on one side and my big knife on the other.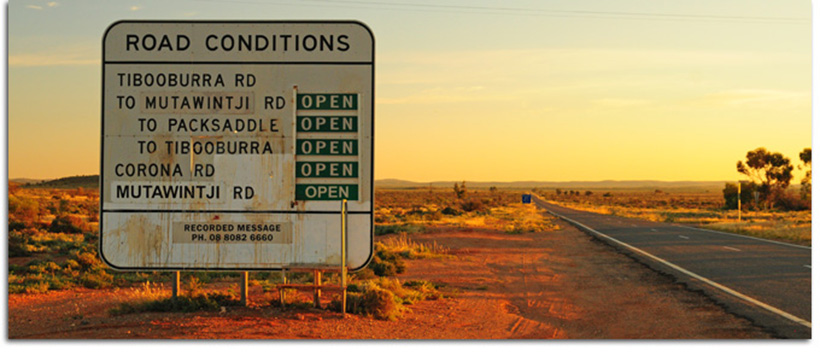 Back on the road next morning I smiled when I passed a shoe tree. How totally weird to see this out here. People had actually hung their old shoes on the branches of a tree. No reason for doing so other than to have a laugh. It certainly brightened up my day. Four hours or so later on, on the Tibooburra road, I became aware of a truck slowing down behind me. It was a chap called Jeff who leads tour groups. I had met him on the road into Menindee when I stopped to ask him about road conditions and I met him again in Broken Hill when I was cycling around town. I told him of my woes with the bike and he offered me a lift up the road a few kilometres to Tibooburra. I didn't want to accept and I have declined many offers of a lift before from people who stop to speak to me, but I accepted this one as I was also running low on water and there was not much lying around here. The excursions that I do on the bike will more than make up for this in any event so I will still have covered the distance from south to north. In addition the new route that I am going to have to take will be considerably longer than my original planned route.
There were 9 people on board the tour truck and they were all very nice to me, especially a chap called Leroy. Once in town they had accomodation and I had to find some for me or camp out again. I also had some repairs to do and also needed to try and get another tyre as a spare. Not easy in a town of this size. I met Steve who runs the Country Corner Store though and he managed to produce and old tyre and inner tube. Both were rather perished but I had little option so I paid him $20 for them which is what they would cost new but then this is the outback. Everything here is expensive and hard to come by. I spent the next two hours mending tubes and swapping over tyres to make sure it all fittend. Then I cleaned sand out of the gears and cogs and oiled them all. The sand also contributes to making pedalling that much harder.
4th April - Happy Birthday to me! I was invited to join the tour group for a hearty breakfast which was nice and once they had set off on their journey I decided to have the day to myself and do not very much as it was my birthday. I cleaned kit, took photos, wrote my journal. I also filled all of my water bottles from a tap and felt strangely guilty about doing this. I had asked permission but even so it almost felt as though I was stealing water as it is such a valuable commodity out here. In the evening I went to the pub and had a few beers which was nice.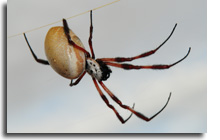 The next morning I loaded up the bike and it was very, very heavy with the additonal water. The back tyre was sagging under the pressure and I was rather worried. The pale sunlight in the morning was nice and I could see the giant spiders in their webs as I rode past them. The road was kind to me at the start of the day and even the uphill stretches seemed easy. Low level scrub on both sides of the roads and scores of kangaroos hopping about. They really are the most comical animal to look at.
The chain came off when I was changing gears going up hill. It became firmly jammed between the bike frame and the gears. It took me 20 minutes to free and my hands were now covered in oil and grit. Things like this really turn your whole day upside down but this was only the beginning of my crappy luck today. I had managed to twist the chain and it was making strange noises and clunking its way on every gear change. Not a good sign with 1500+ kms to go. You need to appreciate that I was now going out into 700-900kms of very remote land depending on which route I end up taking. If things go wrong out here they can go very wrong indeed. I have a spare chain link and a chain breaker so I could take the chain off if I have to and try to flatten it by bashing it with a rock. Knowing my luck though this would only make matters worse!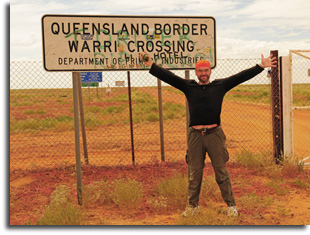 Crossing through the dingo fence at the Warri Gate was a bit of a lift for me. I was now in Queensland with New South Wales and Victoria behind me. Still a long way to go but it felt good. 50 kms further up the road was where I had to make the biggest decision of the trip so far. Turning left would take me through Santos and on to Innamincka. That is where the Dig Tree is but sadly it is under 8 metres of water so there is no point at all in going that way. Additionally I could not cross the Strezlecki Desert to Birdsville so I would only have to come back this way in 4 / 5 days anyway. I had no choice but to keep going north towards Noccundra.
I was sad that I would not see the Dig Tree and that I would not be able to faithfully follow the Burke & Wills route. I cheered myself up with the knowledge that I could still be the first Brit to cross Australia solo and without pack animals or a support vehilce. My route would now be longer and I just have to hope that I can complete it in the time that I have. I need to be in Cairns no later than 2nd May to meet Rachel who is flying in to meet me. I will aim to get back on my original track at Cloncurry and head up through Normanton and Karumba. I will be taking the train to Cairns from Normanton.
Blog Update 7
Road conditions north of the Warri Gate deteriorated rapidly. It was uphill on red sand again which meant carrying the bike and I was going through my water at a fearful rate. It had taken me five and a half hours to cover the 54kms south of the gate from Tibooburra but now I was at a snails pace. Seeing signs telling me that some roads were closed only confirmed my fears that conditions for the next stretch were going to be really quite bad. When a 4x4 can't get through what chance will I have?
I lay down on the road at one point today to rest as I was simply so tired. I opened my eyes and looked skyward and suddenly became aware of about ten birds of prey all circling overhead presumably eyeing me up as their next meal. I got up just in case I fell asleep and got pecked. I had to keep on moving. This is when you feel low. This is when you need a buddy to cheer you up. I don't mind saying I felt pretty sad.
An unexpected junction suddenly appeared but there was no sign. I was not expecting a junction and there was nothing showing on my map (but is not really the best scale in any case). I stopped to think and then decided the best course of action would be to follow the route with the most tyre tracks. After about half a mile I seemed to rejoin the main track and I later learned from someone that these small diversions occur when there is heavy water on the road. It seems that even though I have re-routed to avoid the heaviest flooding I am still going to meet a lot of water on this stretch of my trip.
It was time for me to set up my tent for the night. I found a reasonably flat area without too many thorns. I got my big knife out and scraped the ground of small stones and anything else that might tear the bottom of my tent. This also wakes up any nasty bugs that may be lurking in the surface soil. I have been warned about small scorpions out here which have a nasty sting.
I noticed that every small bush and tree near me was crawling with big spiders. They were mostly golden orb spiders which are harmless but you still wouldn't want one crawling over you in the night. They are pretty scary to look at and can reach 10 centimetres in size. So I avoided these and any chance for falling branches to hit the tent. The last thing to think about is flood waters. The rain here can be sudden and very heavy. Being caught in a creek bed would be very bad indeed so I put my tent on the most elevated ground I could see.
I got into my tent and zipped it up and started the usual process of sweating the night away. I longed for the temperature to drop. I was so thirsty but I tried not to drink. I knew I would need my water tomorrow. There is water lying around here but you never know where or when you will find it so I had to be cautious. I actually licked a little sweat off my skin but I tasted pretty bad and I wasn't really desperate enough yet to be doing this so I stopped that pretty quickly.
The night was terrible. I was awakened by torrential rain at 2am and the lightening was so close I could actually smell it. Sounds weird but I swear I could. The tent was taking a real battering and I am so glad I had put out all my guy ropes when I set up last night. I always attach them and peg them in because you just never know what will happen. I actually doubted that the tent would survive the night and I was so concerned I got dressed just in case I had to get out of the tent and salvage my kit until the storm died down.
The tent had coped remarkably well. It was a bit wet inside but I had wrapped most stuff up inplastic during my 5 hour ordeal. I was so concerned incase the tent was struck by lightning. With so little sleep I was also even more tired than normal.
The sand was now a bit easier to cycle on but because it was wet my tyres clogged up and the bike was heavy going. My legs were in pain. This was real endurance stuff.
God must have been smiling on me in some way or another as I soon saw a lot of water lying on the road. I mean a lot - 200 metres across. With the rain last night I knew this would not be stagnant so I filtered as much as I could for drinking. It tasted pretty sweet, rain water usually does. I was glad to have full bottles again.
I came across lots and lots of these flooded stretches of road. This meant lots of diversions and extra distance. One of them must have been a kilometre across and when I came to it all I could think about was freshening up. I pulled off my clothes and waded in. It was lovely. I took some of my clothes with me to wash them too. I felt something swishing around my ankles so I got out. There are plenty fish in here as well as frogs and probably eels too. They lie dormant in the earth for years and when the flood come they all come out to say hello.
This is oil country and you pass signs for the wells but they are all off down long private tracks. Occasionally though you can see one from time to time. The road slowly improves and the hills become a forgotten memory. Bitumen makes an appearance and then you notice that you are not that far from town. Thank goodness.
Noccundra is small. Very small. As far as I can establish the permanent population is 3 people and they all work at the pub which is the focal point of every 'town' out here. There are several stations around though and plenty people drive in after work for a beer. Oil workers and truckers come too so it is actually a very lively place. Don, the publican bore an uncanny resemblance to the Scottish comedian Rikki Fulton which made me chuckle inside.
Apart from the pub there are outbuildings, some simple cabins, a few static caravans and the Town Hall! Two planes landed at the back of the pub with a group of eight elderly Australian tourists so it was suddenly a busy place to be.
My tent was set up on the ground outside the pub. The first thing I did was to take a fresh water shower. It was a simple corrugated iron building and when I went in I found out I had to get naked in front of an audience. I counted a total of 23 frogs. My main concern was not to stand on any of them. My new leaping green friends all just stayed in place until I was finished and left them in peace once again.
I was told I could camp and have the shower for free if I swept and mopped a floor so I was happy enough to do that. I wasn't exactly busy with anything else. Dinner was big and exceptionally good. Totally unexpected out here.
Before bed I cut down my mankiest socks into someting akin to cycling gloves. I cannot afford to burn my hands again.
It rained again but I also had something which I can best describe as 12 hour flu during the night. My sleeping bag was soaking and I felt terrible. With everything wet and more rain in the sky there was no point in sitting there so I had to pack up and set up with the prospect of wet bedding waiting for me at the end of the day. Not something to look forward to.
Last night in the pub I had talked to some of the stockmen (cowboys) and Phil had invited me to Nockatunga Station which was very kind. It is enormous. I think I am right in saying 8,500 square kilometres. When they come to muster (round up) their cattle they need to use helicopters and motor bikes to find them. Anyway, Phil gave me a coffee and some toast which made me feel a whole lot brighter.
It was raining hard when I left so I pulled on my bin liner which serves as my waterproofs. The stockmen all thought this was rather funny. I am so used not to caring what I look like out here. To these big tough chaps I must have looked pretty bloody stupid. I headed off down the driveway - more than 1km just to get to the road!
I had several punctures today. One I simply cannot repair as it is around the valve of the tube which means I now have four vaguely serviceable tubes. I'm hanging onto the other one though as I am sure it will come in handy for something.
Covered about 80kms today which means I have 100 kms to do tomorrow to get to Eromanga. My camp was set up just off the main road but the ground was very wet. Hard to find a good spot tonight. Everything in my bag was wet. The mositure seems to have permeated everything. My Aussie mobile is soaked, my video is struggling but I am keeping on using it. Thankfully the Nikon camera is still in good shape. I will dry them all as best I can.
I hung my clothes over small bushes and tied them all on in case of sudden wind (from the sky, not from me!). I ate my first emergency rations tonight. Normally I don't eat but as my bedding is soaked and I am a bit fluey I thought the calories would help me keep warm overnight. I had to get into the wet sleeping bag. At least being wet and warm (after a while at least) is better than being cold all night.
Blog Update 8
Eromanga seems quite a big place after some of the wee places I have pedalled through. Cafes, shops, a nodding donkey, a museum full of rusty equipment and a population of just under 200. It also boasts an oil refinery and a sign at the petrol station proclaiming that it is the town in Australia furthest from an ocean. (I would have thought that was Alice Springs myself but there we are).
Not being able to see the Dig Tree, there seemed little point in crossing the small tracks and roads to the north when I knew that going east would take me to bigger towns and much needed spare parts for the bike. It adds quite a distance to my original trip but if it means that I complete it that is now the most important thing for me to focus on. Another 100+ kms of nice fluffy bitumen took me to the town of Quilpie. No more dirt roads for me for quite a while now.
With nearly 600 people this was like a city to me. I thought about staying at the Brick Hotel but heard it is run by a religious group and is the only hotel in town with no bar so that idea went straight out the window. I headed for the camp site instead. As they had all their sprinklers on and the ground was soaked I opted for what they called a Budget Cabin. For $48 I got a nice small room with a fridge but it was swelteringly hot inside. Camping may have been better but at least in the cabin I would keep my kit dry.
I went out to town and realised how disgusting I must have smelled and looked. My top has quite a few holes in it and is rather rag like in appearance so I got a new t-shirt and some socks. I got some provisions at the supermarket and whilst there got chatting to a chap called Dave. He invited me to the lawn bowling club tonight. I would not normally think of this as a night out at home but here it seemed quite appealing.
I rushed back to my wee cabin, boiled the kettle and had hot noodles from a plastic container in my small room and a tin of tuna. Not the most inventive meal but it filled me up. I did some maintenance on the bike and had a shower. I was going to wash my wet stinking clothes but that will have to wait. I am off bowling! (It turned out to a lot of fun. I was rubbish but I met some nice people and got badly bitten by lots of insects).
Going out east to Charleville next morning was a wonderful road. There was a eerie mist hanging around in the mornings which gave this place the appearance of a rain forest. Load of kangaroos - more than I have seen anywhere else on my trip. The railway to my left was out of commission as the flood waters had washed away the earth from under it and in places it was just hanging in mid air. It will be a mammoth project to reconstruct it.
The smell of the gidgee trees (a type of acacia) hung thick in the air. Some people hate it but I have grown to rather like it. Thankfully the days and nights have been dry of late so I have no great dramas to write of. The road was level, well surfaced and the gradient was more often in my favour than against me.
Charleville itself is an even bigger town but looking very down at heel at the moment. It suffered in the recent floods and most businesses were affected in some way or another. I had heard about the Corones Hotel which was supposed to be magnificent so I headed there. It was a complete toilet. I swear that when I opened my bedroom door I had to push it through the spider webs. There were spiders everwhere, the room smelled terrible and the bed linen looked as though it was last changed in 1974 and had probably been slept in by several coal miners and a succession of incontinent children since then. It was thoroughly offensive but I stayed anyway as I could not be bothered going anywhere else. The shared bathrooms were an experience I shall not share with you!
The rains have brought good as well as bad. For the farmers they know that their stock will fatten and that they will benefit financially. For property owners and towns people it means they will have plenty water but it has also caused extensive property damage. Overall the view seems to be that the next two seasons will be very good. There will be plenty of water and vegetation around which will make this a less ardous country for a while to come. Unusually they say that the easiest time to cross it will be in a few months when the flood waters subside but the underground water table will still be high, the land green and the creeks in good shape.
Getting out of the hotel in the morning was a challenge I had not expected. I was up before 6am to get on the road early. The front door of the hotel was locked and chained. The fences in the back were similarly locked and about 10 feet high. I had to scale these with my rucksack and paniers. Thankfully I had left the bike chained up outside the railings. Only 80kms north lay the town of Augathella. It sprung to importance because it was on the convergence of various routes used by bullock teams which used to carry the wool from the outback to the railways. Most other towns around here grew up because of opals and more recently oil. The highway does seem far busier than any road I have been on in ages. The hard shoulder though is only about 18 inches wide and the road trains are worse here than ever. The highway will be a horrid challenge to have to endure for so many more kilometres.
I did not like the road up to Tambo. I got pushed off the bike by a truck and it was also hot and dusty. The town of Tambo itself is very pretty to look at and there are many interesting buildings from the time it was first settled. The Carrangarra pub offered up the kind of cold, pale yellow, fizzy drink that I needed. It was awesome. Really hit the spot.
Precisely 100kms and amazingly only 7 3/4 hours up the road is Blackall which offered me the Banks Campsite. A nice place to set up my tent and get a wash. A town with two and a half petrol stations. I say that as one of them, on the corner of a quiet road, looked so old that I doubted it could ever work. The pumps had probably been there over 50 years. Palm trees are becoming far more common. This place even has a cinema and a goose farm. I have slept really well here. In fact I am sleeping far better in general now. I think being dry and seeing a town every day or two is nice. I am also aware of the fact that I am seeing more people so the isolation factor has subsided a good bit. Once I get north of Cloncurry though this may change back.
What a sunrise this morning. I was already in the saddle with all my lights on and it was off to my right. I kept looking at it and it changed so quickly. Every imaginable colour. Another pretty decent day I have to say. Just over 100kms to Barcaldine. This is a funny place. Very much a one street town but it has a fabulous bakery (not sure how they ever sell all the bread they make in this small place) and the Commercial Hotel is nice too. Obviously the main reason that I go into all of these pubs is because of their historical importance. Seriously though most of Barcaldine seems to have been burnt down at one stage or another. There are signs everywhere telling you when places were built and then rebuilt after each being destroyed.
There was a sign pointing to the Tree of Knowledge and I tried to find it but could not. I wonder if that is telling me something? Camping outside of town to save money, I managed to attract the attention of a policeman but he was pretty decent about everything. In the end I just pedalled 5kms further up the road and made sure my tent was as out of sight as possible.
The next day I knew I was in for more of the same. This has been a great road but it is a bit monotonous compared to the bush. No punctures, no frogs, no floods. I guess you can't have it all. There is a lot of stock though on each side of the road. The terrain is changing slightly and it seems to fall away from the road on the left and right as if I am cycling a ridge line. The clouds also seem different. Very big and fluffy but not threatening me with any lightening or rain.
Only 25kms to go to Longreach and I whizzed through Ilfracombe. I had water and no other reason to stop so I just pushed on to Longreach and that is where I am now. I am very, very tired. It has been a hard slog getting up here.
Blog Update 9
Once again this will be a shorter update than I would like due to the fact that my hands are still pretty messed up. They hurt quite badly. Sometimes numb, sometimes pins and needles. Anyway, not long arrived in Longreach. The ride into town had been good and did a lot to cheer me up.
Lately I have been able to pedal harder, faster and longer than I ever would have thought possible. I used to think that doing 100kms in a day was good, now I can ride for 12-14 hours per day and do well in excess of 200kms. I have not yet hit 250 kms and doubt that I will as I have relatively little left to do and I want to enjoy it. I know I have lost some weight as my trousers are a bit baggy on me now. I had plenty to lose in any event so it is no great loss. My thighs have become stronger and I have a very stupid suntan. The bottom half of my legs is brown and the top half very white. I also have perfect t-shirt marks on my arms so I look like a zebra crossing!
I think the fact that I spent time cleaning and oiling the bike chain recently, plus I had a chasing wind and was on a bitumen road all added to my good fortune in recent days. My legs are getting stronger and my stamina better. I have also got my bike very well sorted in terms of having a road tyre on the front of the bike and a more rugged tyre on the back to cope with the weight.
I got a decent room in Longreach for only $28. I had to share the bathroom with quite a few other rooms but it was clean enough. I also managed to wash my clothes for what seems like the first time in too long. I was smelling and looking pretty tramp like. I have managed to tear some of my clothes and was looking quite rough.
Late on in the afternoon I was having a beer in one of the pubs in town and chatting to some chaps including an opal miner when someone made a comment about me being Scotland's answer to Mick Dundee because I was called Mike and wore a bushman's hat. I thought it funny and didn't have the heart to tell him that my hat is in fact from South Africa. Most men wear these hats out here and cowboy hats are also very popular. You need someting pretty wide brimmed to help keep the sun off your head. Especially if you are a baldy like me.
During my time in Longreach I took some time out and visited the Qantas Founders Museum and the Stockmans Hall of Fame which is dedicated to stockmen (cowboys and ringers) and also to pioneers of Australia. It is fascinating and gave welcome respite to the daily plod on the bike. I also got time to go to the internet and deal with loads of emails as well as sending images back for the blog. It seems to take forever. In the evening I found a place that was doing a BBQ and had the most fantastic steak and a mountain of salad. I really relish having good food when I can get it as so often I eat nothing all day or at best a small can of something just before I go to sleep in the tent.
I left Longreach via the Thomson River Bridge. The initial road was awesome and gave me the impression that I was going downhill but in fact I do not think that I was. It was a bit weird. It was another pefect day and my thermometer was saying 29C which has become a very acceptable temperature for me to cycle in. There was very little wind and the land on both sides of me was vivid green. There were also plenty of trees.
It struck me that there was almost no litter here apart from beer bottles and beer cans. I suspect that drink driving is quite an issue and that the cans get jettisoned from vehicle windows once drained of their precious liquid.
The hard shoulder on the road was wider today which gave me more protection from passing vehicles and in particluar from road trains. I usually hear them coming but if your mind wanders you can get a surprise and a fright. It certainly helps you to re-focus.
The cattle are changing in appearance and I gather that these are now rahman cattle. Very identifiable due to the big hump on their necks. Some of them are a tremendous size they really are. You certainly couldn't eat a whole one even if you were really hungry. They are also the first cattle I have seen in a while to be of such varied colours. Blacks, creams, browns and tans. They all raise their heads to acknowledge my presence and more often than not they run at the last moment kicking up clouds of dust. I have taken to making loud mooing noises as I approach them. A simple way of making me chuckle to myself. Perhaps I am slowing losing it. (Or should I say moo-sing it?).
I started to think back to how bad I must have been looking when I arrived in Longreach. I have a scraggly beard, my nasal hair had merged with my moustache, I even have hairs in my ears and for the first time in years more than stubble on my head. I will have to get myself all tidied up before I see my darling Rachel.
To my left I can see for many miles and yet on my right only a few hundred metres. I must be near a ridge line. There is also a railway line on my right which I understand takes freight only. Once upon a time it took passengers but those days have long since passed as populations in the towns out here have changed.
Winton is cute. I arrived under an azure sky with perfect white fluffy clouds dotted evenly across it. It boasts a huge old wool cart in its centre, shops selling opals, old cars lining the streets, statues to Banjo Patterson and the Matilda Museum which claims to be the sole museum in the world dedicated to a song (Waltzing Matilda just in case you had not worked it out).
There is also the Australian Hotel and the Tattersalls Hotel which has a Guinness sign outside, the brightly orange painted Twilight Cafe, hardware shops, feed suppliers, stock dealers, general store and other shops. It is a lovely town and one I would have liked to spend more time in.
I have been quite upbeat of late. It is easy to let yourself feel lonely so I think of good things, of home, my wife and friends and family. I only just bought a basic MP3 player before coming out here and it has cheered me up a lot too. Without it some days on the road would have been a whole lot harder. The Jam, Deep Purple, The Undertones, Two Unlimited, Hendrix and Iron Maiden. Showing my age a bit there.
Travelling further north next day I found myself having other odd thoughts. It is amazing what all this thinking time does to a person! I was passing the kind of grass that would keep me very happy if I were a cow. Lush, green and so far different from some of the dry scrubby stuff that so much of the livestock up here normally has to make do with. Being a cow or horse up here in summer must be a pretty dul existence.
I was now passing low level, tree covered mounds which I can only liken to a miniature and heavily weathered Monument Valley (with tress on top). I think they are known here as Pop Ups. It also reminded me in some strange way of areas of the Rift Valley in Kenya.
The next marker was a sign to the Combo Waterhole on my left but I had enough water so I kept on going. I think it is some way off the main road any way and I did not want to waste time if I didn't have to. Strangely the grass seems to have turned to brown even though you can easily work out the path of the Diamantina River by following the tree lines.
More distant hills, long and slow hills for me to pedal up and a deteriorating road surface. I had to keep motivated or I would start to lose my cycling mojo. Kynuna was a non event but I am glad that the roadhouse was there and open. At least you can get a cold drink which breaks the monotony of tepid water. The settlement itself though is the roadhouse, a few small houses and tumble down shacks with rusting vehilces slowing falling apart at their sides amongst long uncut grass. No reason to stay here.
Mackinlay, by comparison, was an absolute joy to get to and a complete surprise. When I rolled in I had no idea that the Walkabout Creek Hotel which featured in the Crocodile Dundee film was there. I pitched my tent at the back and went in for a couple of beers. At this point I had no idea that I only had $11 (about seven pounds) to my name and that the next bank was 106 kilometres north. Thankfully the barman allowed me to use a card and sign for it as my card would not even work on their electronic Visa machine.
I went to the roadhouse for dinner and had rissoles with chips and gravy. I think the truckers found it quite funny to see a chap in lycra shorts. They are all big butch chaps with beards and baseball caps. My top half appearance matched theirs but my bottom half looked as though it had just come out of a hairy-legged girls aerobics class.
Next morning I went out to locate the pioneers graveyard, see where the Walkabout Creek Hotel had originally been located (it was moved from one street away as most tourists could never find it) and I also came across the smallest library in Australia. I must say I am getting to see some rather unexpected places on this trip.
The next unxpected occurence was having a snake in my tent. I have no idea how it got in there as I always zip it up but I am just thankful I saw it. Had I not seen it then it could have been a very bad outcome indeed. I unpegged my lent and wrapped both my hands in clothes just in case it tried to bite me through the tent. I then lifted up the tent up and shook it until the snake dropped to the ground and went on its way. I think it was a small brown snake. About two feet long and only as thick as a finger. I have still not seen any large snakes but as these can all kill you irrespective of size I guess I should just be thankful.
I re-established my tent and got my head down for the night. I slept with one eye open and two torches by my side.
Blog Update 10
A number of people have emailed me asking how much and what kit I have been travelling with, so for anyone interested.....
My bike with spares (Bike, Paniers and frame, Compact pump, Spare tyre, 3 spare inner tubes, Tyre levers, 4 puncture repair kits, Comprehensive tool kit, Chain break, Oil, Helmet, Lights, Reflectors, Water bottles)
Digital video camera, with three spare batteries, battery charger, power adaptor, wet weather cover, radio microphones, directional microphone, headphones, remote control, tripod, ND & Skylight filters, and a stock of DV cassettes.
My Nikon D300 stills camera, with 17-70 & 70-300 lenses, 4 CF cards, 2 spare batteries, battery charger, polarising & UV filters, and USB cable.
And my other belongings all stuffed into or attached to my 75 litre rucksack, namely a sleeping bag, roll mat, tent, cooking pot, fork, Bowie knife, penknife, GPS and back-up compass, thermometer, 8 metres of rope, collapsable water bottles, lighter, water filter, torch, MP3 player, various batteries, comprehensive medical kit, bush hat, one t-shirt & one long sleeved top, two pairs of socks, 2 underwears, cycle shorts, zip-off cargo pants, Goretex jacket & fleece, trainers, walking boots, Aussie mobile & charger, toothbrush & toothpaste, 2 journals, 4 pens, a 1:4,000,000 map and a paperback.
There you have it!
Blog Update 11
Leaving Walkabout Creek I knew that I really was on the home straight. It was only about 550kms to the north coast. Now that seemed like not very much at all. In the UK if you said you were going out to cycle more than 500kms most people would think you rather odd. My whole perception on cycling distance on a bike has changed since I have faced all the challenges it has thrown up.
It seemed hotter up here and it was definitely becoming far more humid. Normally as I sweat my way through a day the wind dries me as I cycle so I never feel too uncomfortable. It was very different here. Hot and sticky all day long. Less enjoyable but nothing at all you can do about it. The insects are back too. I just look forward to the next opportunity for a cold drink and a wash in clean water. It keeps me focused. More than anything now when I get to a town I look for a petrol station or any shop that might sell ice lollies or ice cream. I sometimes sit and eat several one after another just to get my temperature down.
I saw a large snake on the road this morning. It must have been squished by a car just recently and I am very gald of that. It was over 6 feet long and as thick as my wrist. Had it been alive and crossing the road when I approached I would have had no choice but to wait for it to slither away as some here are pretty agressive. It had a black head and pale yellow underside with yellow and brown banding along its back. I have not yet been able to work out what it was but I shall do once home.
It is hard to imagine what it must have been like for Burke and Wills when they were up here. No roads and no idea how far the coast was. They could draw motivation from very little and they simply had to keep going and going. In some areas the vegetation is so dense they must have had to hack their way through and it would hav ebeen so draining in this humidity and temperature.
106 kms got me into Cloncurry and true to form the first thing I did was get an ice cream and a drink at the petrol station. I had been trying to cycle more slowly and enjoy the ride but I still got here early afternoon. 106kms is only a half day cycle for me now. Having had to unpack my bike and empty my rucksack to find some money I sat on the ground in the shade at the petrol station with kit lying everywhere as the most important thing to me was enjoying my ice cream. Sheer bliss. People stared and I simply did not care.
In Cloncurry I finally worked out why these towns have such wide streets. It has nothing to do with grandiose plans or Victorian planning. Much more practical than that. They needed to be wide enough to turn bullock teams and wagons pulling freight. These were so big that at times they could have teams of 18 bullocks.
In Cloncurry I got a room at one of the pubs which are really just hotels from a bygone era. With their wide wooden balconies extending out above downstairs pub they would not look out of place in most westerns. I did very little here other than sleeping in a decent bed and showering. I did go out for a nice plate of food at a place recommended to me by some miners I had met in Mackinlay. I was woken the next day by the sound of someone opening a beer can at about 5.45 a.m. just outside my room. I got up to be greeted by a hairy Irishman called Mick who lives here permanently. By the time we had finished chatting he was on his fourth can! I got my bike packed up and started the very short 45km leg to Quamby.
Only just over 2 hours later I was at Quamby with its sole building bearing a sign outside proclaiming 'Pub in the Scrub'. As I was now just taking it easy I decided to stay here and set up my tent outside. I was slobbered over by an adorable dog called Billy, I chatted with the owner who is a smashing chap called Richard and then, most oddly, I met a camel out the back of the pub. No two days here are ever the same. I took photos, did my journal and read some old newspapers. My tent was on grass for once and it was very relaxing.
Due to my 'take it easy' attitude yesterday I had about 140kms to get to the Burke & Wills Roadhouse. I did not leave particularly early as this is a very easy distance for me to do in a day, especially as Richard had said the road is flat. He lied. This is the problem with asking a car driver about hills - they simply don't see them the same way as cyclists. It was a pretty tough leg up to the B&W and it was dark by the time I got there. I had seen a great sign boasting 'Beer Pool Beer Food Beer Hot Showers Beer Coffee Beer'. That spurred me on. (Worth noting that it did not have a swimming pool. Just a pool table!)
I had my bike lights on for the first time since I had been knocking out 200kms a day back around Charleville and Longreach. It was weird encountering so much livestock on the actual road and I had to shout at them so they knew I was coming. Far better than surprising a bull and being trampled by accident as it tried to get out of your way!
I pedalled the last bit as hard and fast as I could so I was pretty tired and sweaty when I got in. My leg muscles were so pumped up I could not walk normally. A donga (small box like room in a sort of shipping container) here was $55 so I took one for the night and a great shower. A bit more comfortable than camping. This place is run by 4 British chaps and an Aussie girl. They were all so kind to me and really looked after me. The toasties here were fantastic. I ended up staying an extra night just because I was having so much fun with them. The idea of staying a couple of nights at a petrol station in the UK simply wouldn't happen. The second night I stayed in the staff quarters on the floor.
For the first time in a very long time I had a hangover and it was tough getting on the bike to start out 200kms to Normanton. No choice. It wore off quite quickly as I broke into my usual sweat. After 90kms I came across a layby and simply decided to put up the tent there. It had bush toilets and a rainwater tank. I stripped off at the tap here and soaked my t-shirt to body-wash myself. It felt pretty good. The water tank would certainly have been full of frogs and other hoppy / wriggly friends but I filled all my water bottles just in case I needed it.
As I was sitting at a picnic style table forking tinned spaghetti into myself and swatting flies off all areas of exposed skin a road train driver pulled up and started checking his tires and cleaning the bugs off his windscreen. I saw an opportunity and got my wallet from my rucksack and then asked him if he had any cold drinks in his truck that he would be prepared to sell me. They usually always have an eskie (that's a cooler box to you and me in the UK) and he soon came back with a 1.5 litre bottle of cold lemonade and a carton of chocolate milk. He wouldn't take any money from me which made me feel a little guilty but I was also smiling like a Cheshire Cat. It was like having a great treasure. COLD DRINKS. I finished my spaghetti, waved him off and went to my tent where I drank all of the milk down in one followed by half of the lemonade. It was fabulous.
Next morning I didn't even have a pee after all that lemonade. I must have been far more dehydrated than even I realised. I had drunk consistently yesterday but I must have sweat way more than I thought. I had been plagued by mossies in the tent last night and sweat was running off my and tickling my ribs as it made its way down to wet my roll mat. It really was miserable. Little sleep, just cruel and endless torture. My legs were covered in more fresh bites this morning.
To make matters worse there had been something moving under my tent last night. I could feel it. I guessed though that nothing could bite me through the roll mat so I just made sure I kept my feet and arms tucked in. I found nothing when I took the tent down even thoug I did it in the dark by torch light which was perhaps a little silly.
The road to Normanton was also a little tougher going than I thought. My remaining distance was 110kms which I estimated at 6 to 6 1/2 hours. It ended up taking me more than 8 hours which made me feel pathetic. On good days I can do 17-20kms per hour. Today was not a good day! The sole person who stopped to say hello was a road worker called Ian and who I met several more times. When we were speaking he said 'Do you know you have a large black spider on your shoulder?' I thought he was joking but when I looked I got the fright of my life. How long had this thing been there? I flicked it with my hand and it landed on the bike seat by my backside. I figured it would now not be happy and I was taking no chances at all. Perhaps it was dangerous, perhaps it was harmless. I was not waiting to find out. I lept off the bike and it crashed onto the road. Sadly it fell full weight on my camera. The camera is ok but there is now a problem in so far that I cannot get the filter off the front of the lens. More importantly I am OK and the spider went on his way.
Crossing the Flinders River was lovely. It must have been a welcome sight to Burke & Wills when they reached it. I stopped for photos and to do some filming. I also laid down later for an hour in the shade. I needed to get my temperature down and I was low on water as I had consumed so much so this was the sole thing I could think of doing. Entering Normanton I found a shop and immediately had two ice creams and two cans of lemonade. Perhaps I should have measured my physical state each day in terms of my need or desire to consume cold drinks and food. Obviously a direct correlation. I then made my way further into town and came across the Purple Pub. It would have been rude not to stop. The managr there bought me two beers which was very nice of him.
The manager of the Tourist Park, Mike, was at the bar and I shortly went over to thi place. I could camp there for $10 per day. This includes fresh drinking water, a towel and use of the showers and 25 metre swimming pool. Unbelieveable.
My hand are still very bad but my left wrist is causing me great pain too now. Thankfully only one day left on the bike.
The next morning I was all full of beans and very excited about finishing. It was only 72kms but in view of my rate of water consumption over the last few days I decided to fill every bottle that I had so I could drink freely. The water was chilled and I do not normally carry chilled water even if the opportunity arises due to the condensation which forms on the bottle and soaks everything. However, I had a brain wave (a rare occurence I grant you). I got my foil survival blanket and lined one of the paniers and put loads of bottles in it. Ths actually worked well and kept the water cool all day long.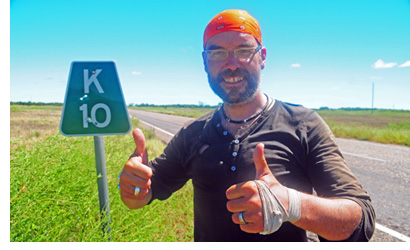 The road was perfect and I was whizzing like a whizzy thing even though there was a fierce head wind. I could focus all my energy on less than 4 hours. The swamp areas around me were teaming with birdlife of all sorts. There were a couple of long downhills and I simply loved this road. I stopped at the sign outside Karumba telling me it was only 10kms to go. Took loads of photos.
Karumba is an odd town to come into. The main road is flanked on both sides by lots of houses but no shops. then you seem to come to the end of the road. I stopped and looked around. In the distance I could see some signs so I decided to go and check them out. Thankfully I did and saw a sign saying Town Centre. Another 1/2 km up the road I found more houses, a caravan park and shops including......... you guessed it............. the pub. Known as The Animal. I pulled in and had a beer. I was finished.
It felt very odd to have completed this. I felt that there ought to be someone there to say 'Well done!' or pat me on the back or something. I felt a bit flat to be honest but as the afternoon wore on I realised just what an achievement it was and started to feel happy with myself again. I coud not have done it without the help and advice of many Australians, support from my wife Rachel and endless help from my friends DB and Gary back home. Thanks too to my family for their support and many friends who have sent supporting emails and made charitable donations to Marocaroundtheclock.
After finishing I hitched back to Normanton with Marty and where I saw the Anzac Day Memorial Service and spent a couple of days. Then I hitched all the way over to Cairns with Russell where I am now waiting for Rachel to fly in 2 days.
Made it!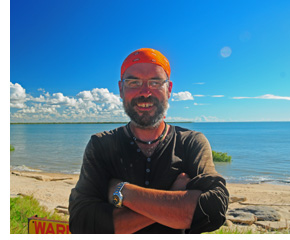 What a superb trip and I am so glad to have done it. I owe a huge Thank You to so many fabulous people that I met along the way. I saw and experienced areas of Australia that more people really ought to see.
The bike I had bought five weeks ago in Sunbury really could not have served me any better, and in view of all the rough terrain, sand, rivers and everything else thrown at it, I would not have changed it for any other bike.
It made me realise just how tough Burke and Wills and their expedition team must have been. They faced malnutrition, beri-beri and having to bury their friends along the way without giving up. To have covered this distance without roads, not knowing when you would reach the sea and not knowing how long it would take really was an achievement that took stoicism, tenacity and courage in buckets.
All my blood, sweat and tears (yes there were all three) were worth it!
You can see some photos from my trip in the
Gallery
.
Interactive map of the route